« January 2010 | Main | May 2011 »
June 5, 2010
I, Too, Take Responsibility For The Gulf Oil Catastrophe
The following photograph was sent me this morning from moveon.org. It is shocking, horrifying, and positively heartbreaking: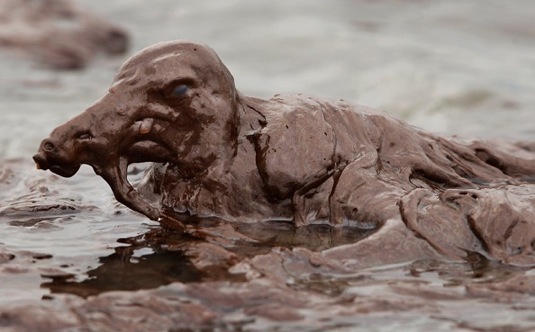 AP Photo/Charlie Riedel, East Grand Terre Island, LA, 6/3/10
It's easy to rage against BP and the oil industry for their greed, total disregard for environmental safety, and criminal business practices. It's easy to be furious over the cozy relationship between the oil industry and government (I am looking right the fuck at you, Mr. Cheney) which resulted in relaxed regulations and the "you pat my back, I'll jack you off" culture that fostered the Department of the Interior's MMS Sex, Drugs, and Oil scandal. What's harder? For each of us to own up to the part we play in disaster currently destroying the Gulf Coast.
I look around my house and all I see are creature comforts and modern conveniences derived from petrochemicals. I am typing this on a plastic encased laptop while listening to an iPod comprised of similar components in a house artificially air conditioned by electricity produced at a coal burning power plant (coal most likely pulled from the ground in one of my surrounding southern states at an astronomical environmental and human cost). I think of all the years I spent touring, driving around the country in The Egg, burning incalculable gallons of fuel made from oil wrested from the ground in the Middle East or perhaps even the Gulf. Christ, I brushed my teeth with a plastic toothbrush this morning. Do we recycle? Yes. Do we compost? Yes. Do we purchase locally gown food at our local green markets? Yes. Do we have a backyard garden? Yes. Do we use compact florescent bulbs and take steps to minimize our electrical use? Yes. Do we buy clothing at thrift stores? Yes. But the more I look at photos coming in from the Gulf, the more I realize that while all of those actions are well and good, I sure as shit better own this catastrophe because I am just as culpable as B-fucking-P. I am just as much of an oil junkie as every other American no matter what kind of "green" spin I put on my lifestyle. Oil has crept into our daily lives, as insidious and tenacious as the Kudzu choking off the maples across our street. It's time to get off the oil horse, no matter how long it takes. They don't call it detox for nothing.
Here are some information and volunteer resources:
The National Audubon Society
Tonic.com's list of Gulf Coast Resources
Posted by bethamsel at 11:26 AM | Comments (0) | TrackBack